Looking for an urban double bed? Depending on your needs, explore best European double beds.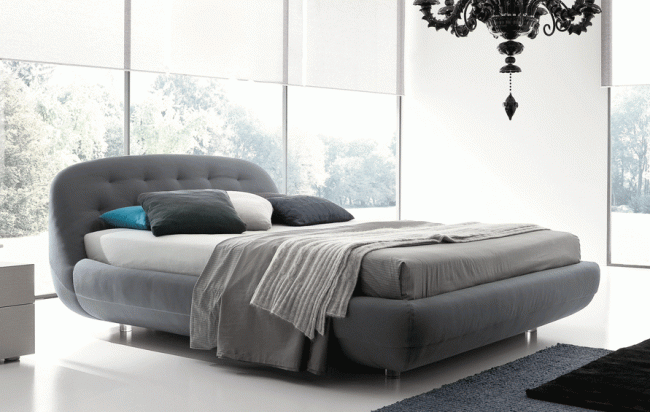 Eclipse beds completely covered in fabric, leather or leather effect material with soft-shaped, round-lined bed ring and quilted capitonnè effect headboard.
Soft neutral tones of White leather or textured Gray fabric accentuate the delicate stitching of Rossetto's Eclipse Platform Bed. The tufted headboard features a gently rounded silhouette while the fully upholstered design has an inviting, cushioned effect. Clear base legs create a floating illusion. Designed for a mattress only.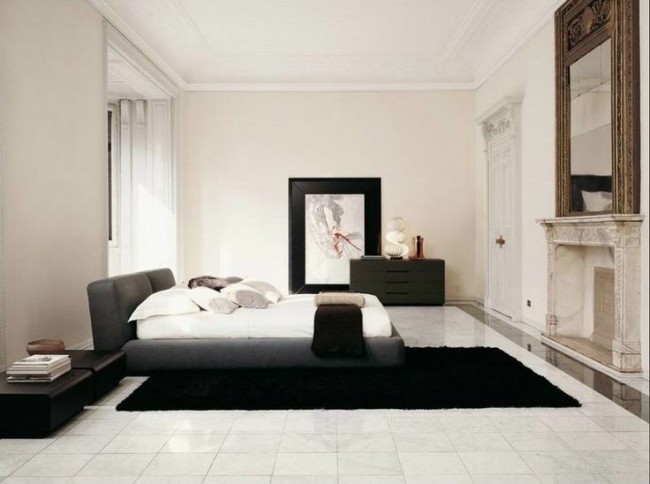 Generously padded headboards slightly inclined, full-grain leather or upholstered in beautiful fabrics. The bed Opium has a modern and elegant design. The feeling of a comfortable sofa interpreted with the appearance of a comfortable upholstered bed. The very name evokes deep sleep and satisfying.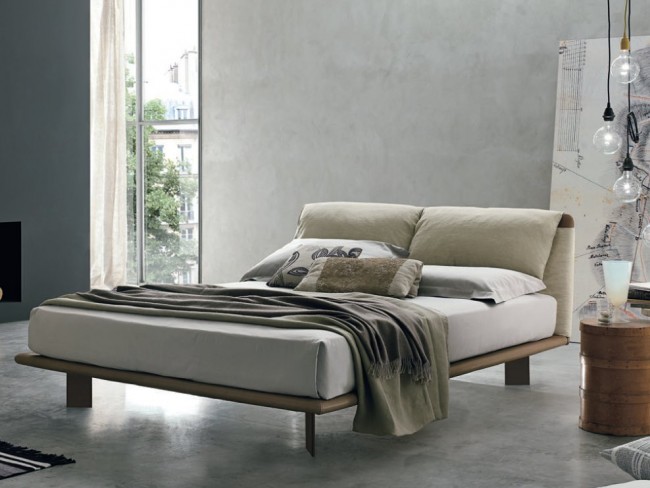 Made in Italy, the luxurious Cuddle bed by Alivar has a padded frame, with a soft headboard with cushions. You can have both the frame and headboard in the same material or choose a contrast as shown in the main image. Beautifully finished and very unique. This bed has contrasting stitching on the leather, which is all done by hand.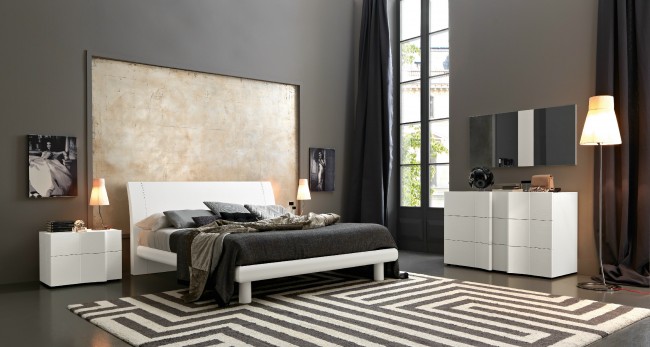 Armonia Bed by SMA Mobile features a gently angled headboard with button tuft detailing. Simple and stylish, this bed is a blank canvas for you design dreams.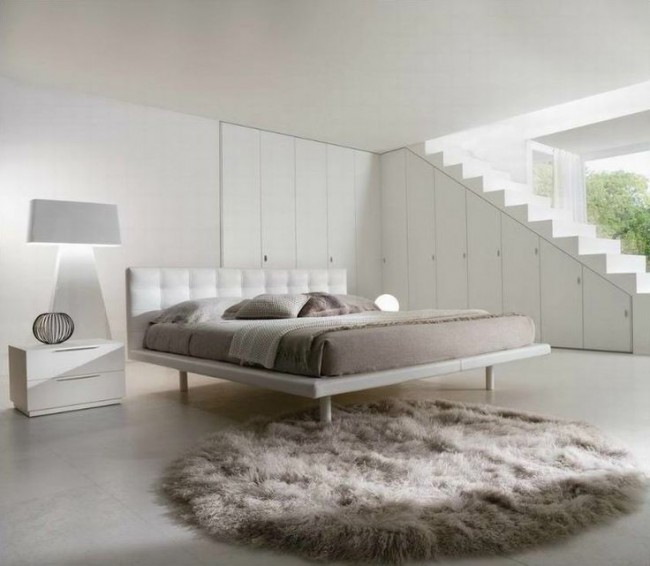 Bed in natural leather, with headboard panels worked double in August Modern design and great craftsmanship combine expressing a product of refined elegance.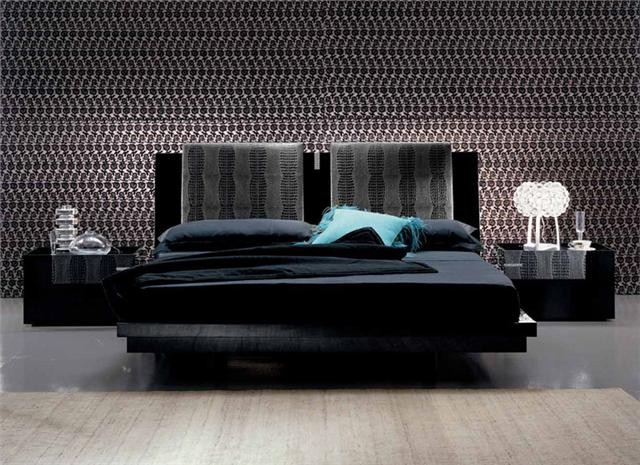 Elegance and glamour are in evidence in the complete bedroom Diamond bedroom set by Rossetto that includes not only the bed but an arrey of complimentary items. The crocodile leather effect material adds a sumptuous quality to the dresser, the mirror and the dressing table, including the matching pouf. A touch of sophistication can also be found inside the wardrobe, where drawer handles and clothes rails all covered in crocodile leather effect material.
Dresser and nightstands add great appeal and original design: just look at their spacious drawers, which are an interesting alternative to usual linear shapes, and the structure of their tops, with raised edges, that introduces a new opening system.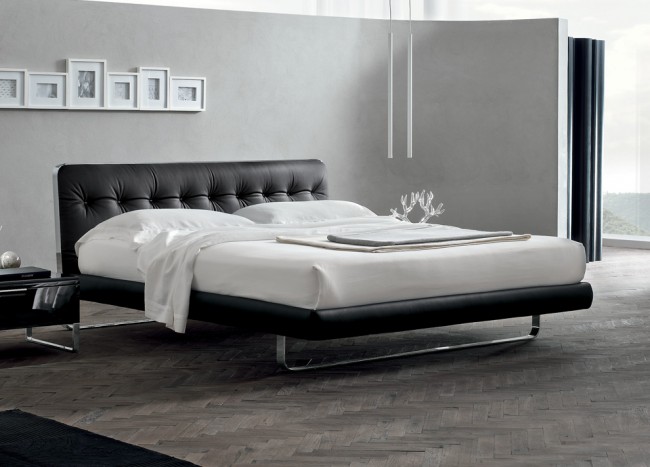 The Blade king size bed from top contemporary furniture brand Alivar, is beautifully made with a chrome metal frame, & it is also possible to have a white, cream, dove brown, black or aluminium lacquer frame.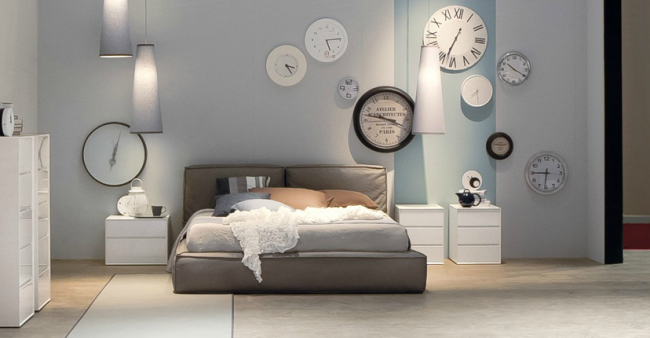 Vogue is the new DoimoDesign bed, designed for a confortable and sophisticated night area.
Thanks to its soft lines and accurate details, Vogue will embrace you with its mixed feather stuffing and edge-to-edge leather seam, bearing evidence to its handmade value.
Vogue is also available in fabric and its lining can be completely removed. For a more space-friendly solution, it is also available as a container bed for maximum tidiness in the bedroom.
The Oasi bed from Alivar, Italy has a comfortable padded and upholstered headboard and frame. This luxurious bed is superbly finished, as is everything made by Alivar.
The Oasi bed shown is in leather, however, there are several categories of fabric and leather that this bed can be upholstered in. mattress) are included. Some assembly required, or we can assemble it for you (an extra cost). Please note that the slats come in a single, mattress sized piece, if you have access restrictions please choose split slats.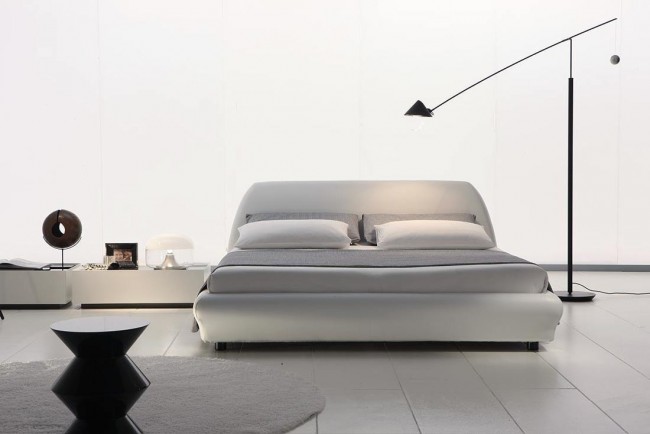 You can't go wrong when you see the ultimate combination of formation and functionality. This luxury platform bed will provide the modern design you were looking for. The contemporary design by Rossetto will set the tone and will be the focal point of your bedroom.