A beautiful leather sofa can add appealing style and extreme comfort to your living room or den. There is nothing quite like genuine leather furniture, and the leather sofa is a classic choice that remains popular with families, couples, and singles alike. However, it is important to know what to look for when buying a couch in order to get the most comfort and long lasting durability out of your investment.
Leather sofas are often considered the highest-quality piece of furniture available.
1. Leather is four times more durable than fabric.
2. Aniline leather is dyed in a drum, which allows the dye to completely soak through for a rich, deep color.
3. Semi-aniline (protected aniline) leather is also dyed in a drum and has a small amount of coating applied, giving it slightly better protection against stains and fading than aniline leather.
4. Unlike upholstery, the color of your leather piece doesn't make a difference when it comes to regular maintenance. Just use a damp cloth to remove dust.
5. Leather takes on the temperature of your body within 12 seconds, so the notion that leather is cold is a misconception.
6. A leather sofa has to suit your lifestyle first.
7. When considering price, remember that a leather sofa will last at least as long as three fabric sofas.
8. Avoid a leather-vinyl combination.
A leather sofa is like old wine. It goes on displaying its unique qualities with even greater charm as it ages. This is especially so with full grain aniline leather. As the smooth, soft and supple feel matures with age, it bears witness to its great flexibility and strength, and its gradually acquired surface glow testifies to many years of satisfied use.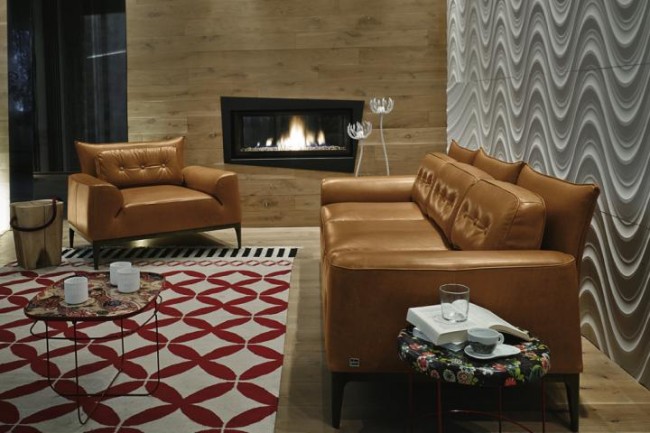 Inspired by the organic lines of the '60s, Mivida plays on the camber of the armrest and the presence of pillows quilted with buttons.
Its contemporary soul is evident in comfortable monocoque seats and thin wooden base, but above all in the great flexibility of its elements.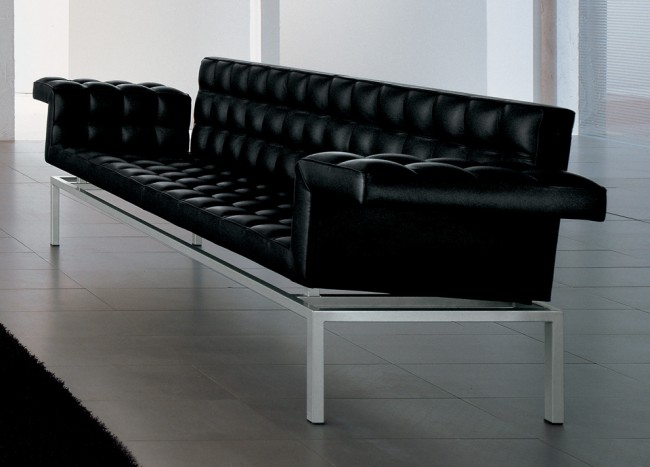 The Boss sofa from luxury contemporary furniture brand Alivar is a familiar sight for viewers of the Jonathan Ross show, & an absolute design classic. This is the original and a real investment piece.
There are 4 sizes of the Boss sofa, 2 larger sofas & 2 smaller sofas (another product), as well as a matching armchair, all fully made in Italy to exacting standards.
The frame is made in either lacquered steel in a variety of finishes or chrome plated steel. The seat can be covered in a wide choice of fabrics or in 2 different leather types, one standard & one with a fabulous waxed finish – all in a wide range of colours. As there are so many choices of fabrics & leather we haven't shown them online, but we have all of the samples in our showroom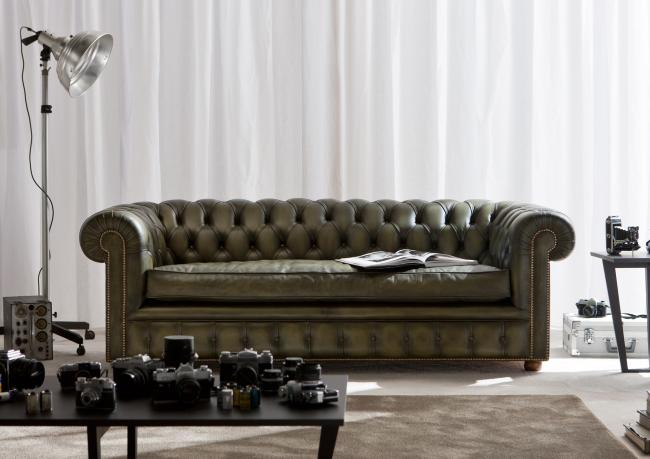 The Chesterfield sofa collection by Berto Richmond has been revisited by Berto Design Studio. The Richmond sofa is characterized by rich and exclusive details indicative of the Chesterfield sofa, with antique brass tacks that line the edge of the armrests or the quilted seat backs and arms, to the soft goose down seat cushions, this is a sofa of timeless beauty, every detail of the Chesterfield sofa by Berto is handmade by expert craftsmen, making it the flagship of our sofa and armchair collection.